Thanks for coming to Suso's Fork!  The site is named after my pet monkey. This is the place to go to find the tastiest and healthiest recipes and restaurants, often with a Latin twist (I'm Cuban), along with information to help you lead a more fulfilling life. You'll also find out how my pet capuchin monkey inspired my famous green shakes!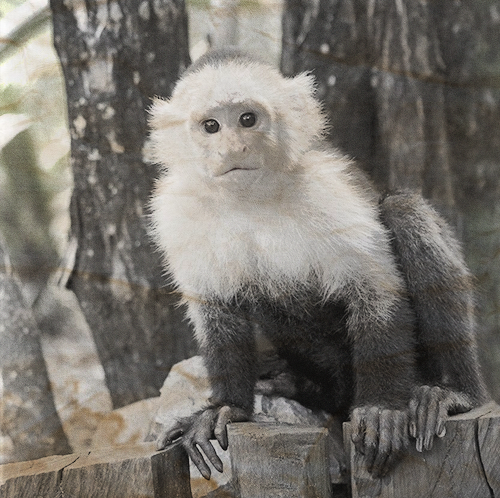 IN THE BEGINNING…
I was born in a tropical paradise on the Caribbean island Christopher Columbus once called "the most beautiful land that human eyes have ever seen," Cuba. My family and I left Havana when I was three years old and I grew up in Miami, Florida. At first we crowded into my uncle's house until my dad, a pilot in Cuba, found a job working construction. It was the sixties and we were surrounded by so many people just like us that I thought Cuban Americans were the majority! Even though we had to leave everything behind in Cuba we brought with us the Spanish language, the culture and, of course, the Cuban food.
I moved to Chicago in the 90s to anchor a morning TV news show and never left. I live there with my "Americano" husband, who was my co-anchor, and three children, two from my previous marriage. I am 100% American, but I'm also 100% Cuban. Our family is a mixed bag of cultures, and I'll share with you how we've made it work. Here's a hint: food is our common global language. We love to eat even though our tastes are as different as lechon is from lox and bagels. Can you guess which one my husband prefers? I hope you'll come along on an awesome journey where I'll share my healthy lifestyle along with some international delicacies.
I may not remember what I had for lunch yesterday, but I have an unusually clear memory of my childhood – what I was doing and what I was thinking– from the time I was a toddler. I always loved food. My mother says I had an obsession with creamed spinach, and no matter how messy it was or how much she gave me it was never enough.
Maybe those years were impressionable because of what was going on within the walls of our house in Havana, as my family was getting ready to escape the island for what turned out to be forever. I remember taking this picture at age 2 sitting on a stool at the bar in my parents' house. One year later we fled, leaving everything behind.
From the time I was born there was one distinctive quality about me. My mother says I was always hungry. You can tell from my tongue hanging out that I was always expecting food!
With three hungry brothers around, it was impossible to avoid the inexpensive low quality food that came into the house, as my parents were still struggling to make ends meet. In addition to the healthier homemade Cuban dishes, we now also had all sorts of junk food in the house. My parents didn't know much more than I did about quality of the foods they were bringing home. Many of them were for the sake of convenience, plus that's what everyone else ate in our new country.
Like most kids, when I was young I never cared about eating healthy. My diet consisted of the Cuban dishes my mom and grandmother cooked for the family, anything sweet or whatever we could afford. I developed a taste for garlic, which was in everything savory that they made, as well as for sweetened condensed milk, which my grandmother used for various concoctions. It didn't help that my mother made a cake for every occasion.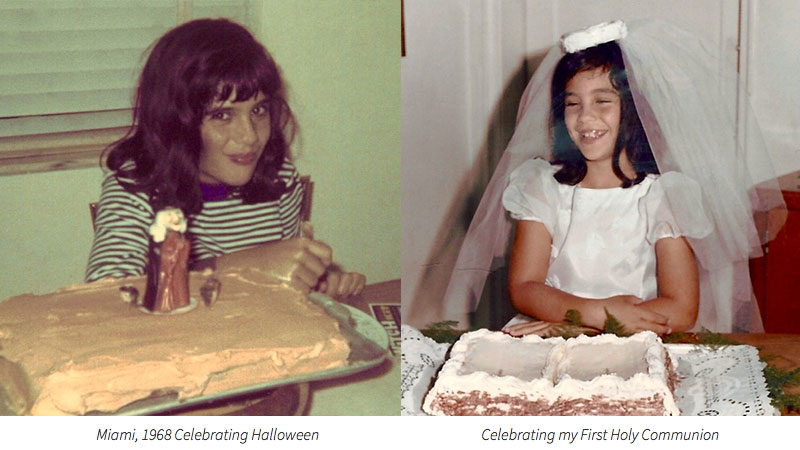 My path to a healthy lifestyle started one Easter Sunday when I was 12-years old. For the first time, after eating a ton of candy and chocolate and getting on the scale, I questioned what I was eating and why it was making me gain weight. I decided to go on a diet, but I had no idea what foods to eat or to avoid. From that moment on I would become increasingly curious about what I put in my body and how it made me feel and look. I began to search for information about what to eat, but unfortunately all I could ever find were books about the latest fad diet. As a teenager, I would observe what my schoolmates were doing to stay slim and I would copy what they were bringing to school in a brown bag– mostly cottage cheese mixed with mandarin oranges in syrup. Not only did I hate it, I thought it was good for me. That's how much I knew!
I remember my parents' shopping list always including Spam, canned corn beef hash, mashed potato flakes, instant rice, canned fruit, Morton's Neapolitan frozen pies, dozens of cans of Penguin brand black cherry soda and always, always, several bags of Chips Ahoy chocolate chip cookies. Easy to see why I was ripe to rebel against unhealthy food! Lacking knowledge, I took dramatic action in juvenile ways. As soon as my mom walked in the house with the groceries I helped her put them away. When the coast was clear, I would sneak back into the kitchen and take the bags of Chips Ahoy and place them under running water in the sink, drenching the cookies so they'd be ruined and not be a temptation to me.
Looking back, I realize now that the solution was right under my nose. In the midst of my unhealthy household, the only one who was eating sensibly was my pet monkey, Suso. Every day we would fill his cage with fresh produce, including all sorts of greens and fruits. That's what I should have been eating!
I've Come a Long Way, Baby!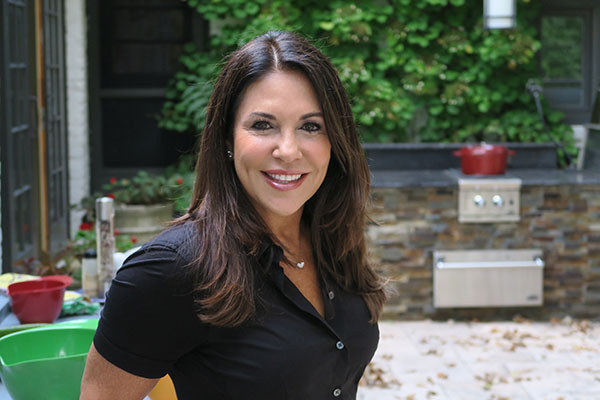 Today although my Latin taste buds still crave the mouthwatering dishes my mom and grandmother used to make, whenever possible I turn them into something healthier. I've adapted many recipes using wholesome ingredients, trying to avoid anything overly processed. But I make sure to spice things up a little to satisfy my Latin taste buds. My food intake now is part of my total holistic lifestyle. I believe positive mental and social attitudes result in improved fitness of mind and body. The real challenge and the fun is seeing the transformation of my husband, who grew up on Chicago pizza, hot dogs and Italian Beef, into a lover of spiced up Latin recipes and healthy alternatives with a sophisticated palate.
WHAT I'VE DONE, WHAT I DO
I've been broadcasting on TV and radio stations in Miami and Chicago since college. Some of my commentaries have appeared in the Chicago Tribune and the Chicago Sun-Times. I have a Master's Degree in writing and I'm currently working on a book. I've been a news anchor, reporter, media trainer, photographer, fitness fanatic, health nut, mom, foodie and accordion player. Beer-Barrel Polka, anyone?
For years my kids have said I should open up a restaurant, even when I've made something as simple for them as a sandwich. I've always explained that the number one ingredient in the food I make them is…love.
WHAT I COOK in my COCINA!
That means kitchen, by the way… I have a passion for discovering secrets from my favorite chefs, the real pros, and for experimenting with them in my own kitchen. If they resemble any of the Latin meals I grew up with, I'm all over them! l Not only do I crave making delicious food quickly and recreating some of my favorite Cuban dishes in a healthier way, I love taking other foods and "Latinizing" them! This website is a perfect vehicle for me. I hope you'll join me as I share what I know and what I learn. So sit back, relax and taste what's on Suso's Fork!
ANYTHING ELSE YOU WANT TO KNOW?
You can check out my FAQ page and follow me on social media. We live for your feedback and read it all!