When my family arrived in Miami we were among 650,000 Cubans who passed through a place considered the "Ellis Island of the South–" a National Historic Landmark called the Freedom Tower. Located in downtown Miami, it was the site of the Cuban Assistance Center. We knew it simply as El Refugio, 'the place of refuge' or 'the haven.' Here, in this 17-story tower that once headquartered the daily Miami News, is where most of our food came from.
My parents felt extremely grateful that the U.S. welcomed us with open arms and helped rebuild our lives with medical and financial relief programs. They were constantly reminding my brothers and me that America was generous to us and we should think of the gesture as a gift, an immigrant's heavenly head start. No wonder so many Cuban-Americans went on to become highly successful! Our prayer time always included saying thanks to the U.S.A.
Years later, my cousin Raul Murciano and his fellow composer Rey Sanchez, wrote and produced a music video spoofing Fidel Castro, "thanking him," (wink, wink) for our newfound opportunities in the U.S. It's a family affair. My brother, Rafael, edited the piece. My parents are in the video and if you don't blink you'll see a few frames of my mother and me at Varadero Beach, at 2:46 into the video.
In the early sixties, one of the biggest sources of help was food. Once a month my mom and grandmother went to El Refugio to pick up a 20-pound loaf of Velveeta cheese, cans of spam, pork and beef, powdered milk, huge tubs of butter, peanut butter and mashed potato flakes. They whipped up our dinner and packed the leftovers into our bags for school the next day.
My mom said U.S. soldiers ate this very food and if it was good enough for them it was good enough for us. She was 21-years old with three children in tow including an infant, and had no idea how to cook since it had all been done for her in Havana. When these staples began to arrive my grandmother got creative and began teaching my mom how to use them. These tasty foods became the base of what are still my favorite dishes.
My number one choice was always Vaca Frita. This delicious crispy shredded beef dish literally translates to "fried cow." Since we received both canned beef and pork, my mother used both meats to make the Vaca Frita, which turned the whole thing into a joke. You've heard of Chicken-Fried Steak, well my mom created Cow-Fried Pork, or Vaca Frita de Puerco. As soon as we could afford to buy our meat at the carniceria, the butcher shop, she began making my beloved dish from beef. This is her original recipe.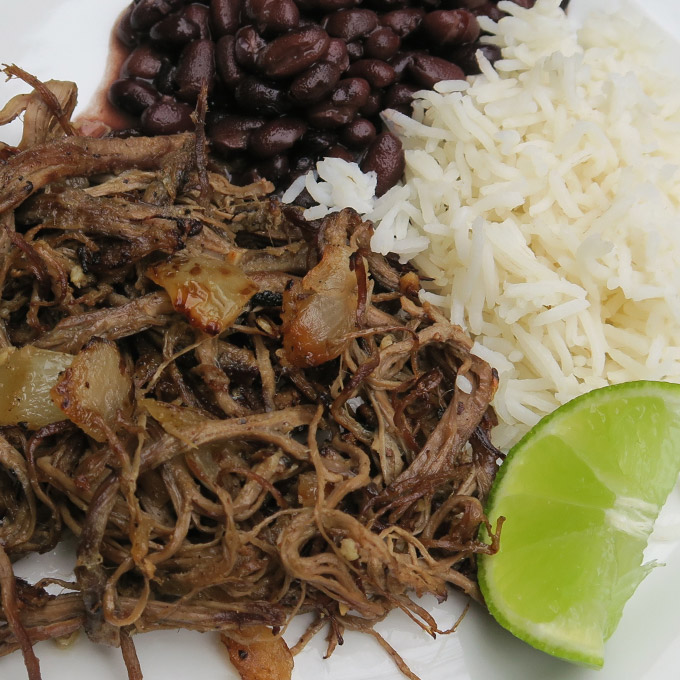 Leave us a message
Powered by Facebook Comments