I've been eating mangos my entire life. They've always been around. We had five trees in our backyard and I was either climbing them or eating the fruit that fell from the branches. I especially loved it when tropical storms approached Miami, especially late in the afternoon or evening, because I knew what to expect the next morning.
Even if it was a school day my grandmother, Nena, would show up as soon as the sun came up and get me out of bed to help her pick up the mangos that had fallen to the ground overnight. She didn't want the squirrels to get to them first.
Nena would patiently explain mango facts: their names (there are more than 400 varieties) how to tell if they were ripe and how to eat them. Most were meant for peeling and cutting, she said, but one of our trees produced small juicy mangos that Nena would puncture with a paring knife. I'd put my mouth over the hole and drink the juice. "It's your baby bottle," she would say. After she cut into a mango and removed the pulp, we'd playfully fight over the huge slippery pit covered with a thin layer of the delicious fruit. Nena and I would suck on pits over the kitchen sink when no one was around. It was a pleasure outside the rules of politeness, and it was our own secret. This would be my breakfast during mango season.
After work Nena would stop by again to pick up any mangos that fell to the ground while she was away, and to help deal with the excess. By this time we would have a few grocery bags filled with mangos on the kitchen floor, and my mother would start complaining about the odor. She disliked mangos and how they smelled. Nena would quickly separate a few of the fruit to give away to her friends and then get to work with the rest. Watching her I learned the proper way to slice a mango, how to remove the pulp and how to make mango jam, all while sucking on that exquisite pit– down to the very last piece of goodness.
My brother, Carlos, who has a yard full of mango trees, learned how to master Nena's mango jam skills. Watch us here.
This recipe contains exact measurements that should not be changed or it will affect the outcome. DO NOT reduce the amount of sugar or use a sugar substitute!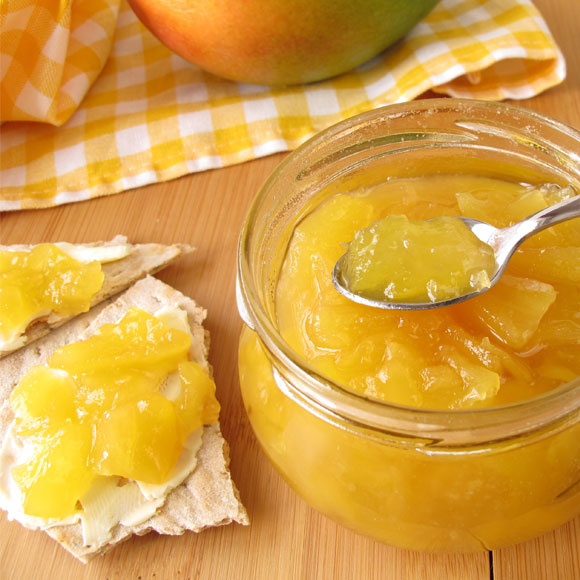 Leave us a message
Powered by Facebook Comments