The first time I met Bob Sirott we were in the Fox Chicago television newsroom. He had just been hired as my co-anchor for a daily 2-hour morning TV show named Fox Thing in the Morning. We did not hit it off. Unless the red tally light on top of the camera was turned on Bob's personality was turned off; he was quiet and reserved, especially around me.
During the commercial breaks between our live segments, we barely spoke. Even if I asked him how his weekend was, how he felt about the last story, or anything else, his response was usually a bizarre look or a smirk, or simply "save it for the show." He certainly didn't ask how my weekend was, what I was having for breakfast, how my kids were. He once told me that speaking to me off camera would ruin our genuine on-camera banter, the chemistry that we had on the air from the moment we first co-hosted the show together. It would be months before the ice was broken. Finally one day we went out to breakfast. Thinking back at that time I now realize our relationship began to blossom over food. We continued going out to breakfast after the show. It wasn't long before breakfast turned to lunch, and finally dinners together on real dates.
It was quite a shock when I first stepped into the kitchen of Bob's apartment on one of our early dates and opened the refrigerator. Inside it looked more like a science lab than a fridge; boxes of pizza and Chinese food – each in various stages of decay. This is how he lived. This is what he ate. There was no food to prepare, not even the basics, so we ate out often. The few times I went to the grocery store and cooked up a homemade meal he didn't seem to enjoy it as much as ordering out. One evening we went to a French restaurant, where they served us a crusty baguette with a giant roasted garlic bulb. We ate it in no time and asked the waiter for a second serving. This would be the first time Bob and I connected over food. I'm talking about garlic.
What a happy surprise to know he loved it as much as I did. I knew from that moment on we would eat garlic happily ever after. We'd never be bothered by each other's garlic kisses. Even now, when I make this simple roasted garlic, I remember our early days of getting to know each other.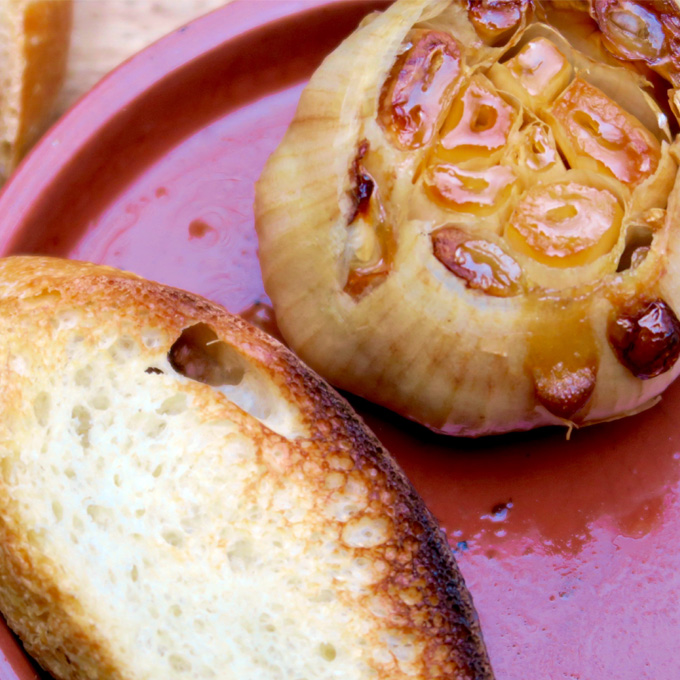 Leave us a message
Powered by Facebook Comments