Her name is Mariana De Castro Larrazabal, but everyone knows her as Manana, the nickname her brother gave her. She's a legend among family and friends, a riot, the life of the party and the youngest soul in the room. She's hysterically funny and remarkably tech savvy (way more than my husband!) with active Facebook and Instagram accounts that show off her creative talents. Not only is she witty and interesting, she's also super cute. My mom is generous with her time and her heart; she was put on this planet to make others feel good, often through food. She's a great cook and she taught me to enjoy food, especially her own cuisine. You're really going to love her!
Manana also has another nickname- the Dog Chef. To say she's an animal lover would be putting it lightly. She cooks up extravagant dishes for her two dogs. (More on that later.) Years before making her pets' health a top priority, she was fixated on keeping her kids well nourished. It wasn't easy carrying out what she considered healthy eating in her new adoptive country where dining habits were unfamiliar and immensely different from those in Cuba. Even four years after we arrived in Miami, she still thought lunch should be as robust a meal as dinner.
I was in second grade when Tammy the neighbor, or the Americana, as my mom called her, invited me to play on her new swing set. She lived two doors down from our rental house in Little Havana. My overprotective mom let me go, surprisingly, but later when she grilled me about lunch at Tammy's house she was horrified to learn that all I had was a peanut butter and jelly sandwich. As soon as we got home she immediately fixed me a couple of eggs.
Eggs were my mom's obsession during our early years in the U.S. Easy to prepare and loaded with nutrients, they were the perfect add-on to any meal, if not the meal itself. She often hid them in the picadillo, anything she threw in the blender, or she served them with a side of white rice, always with a sprinkle of garlic, of course! I believe I ate eggs every day of my childhood. I assure you that in this picture taken in Cuba, where my mom is burping me, I just had an egg!
My favorite way was huevos pasados por agua, which literally translates to "eggs passed through water" but you know them as soft-boiled eggs. Nothing upset me more than cutting into them with my spoon to find they were either too hard or too soft. So Manana perfected the soft boiled egg and showed me how to make them.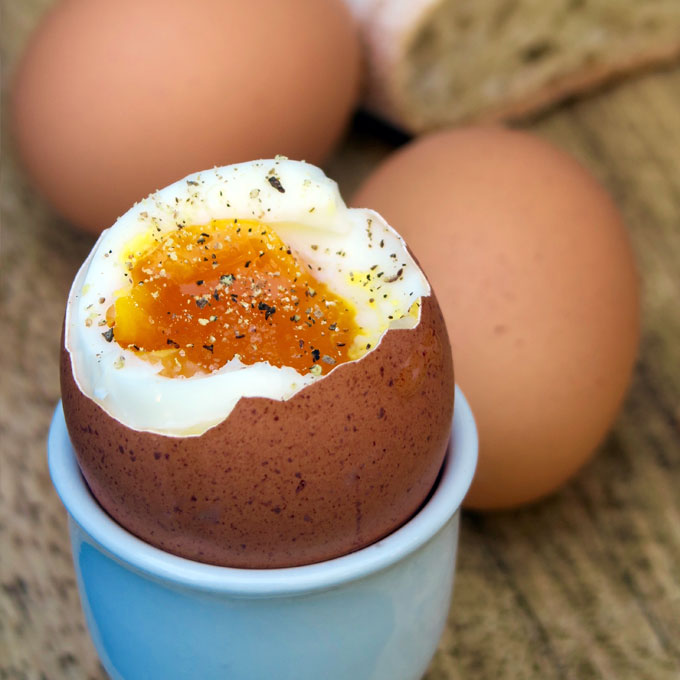 Leave us a message
Powered by Facebook Comments