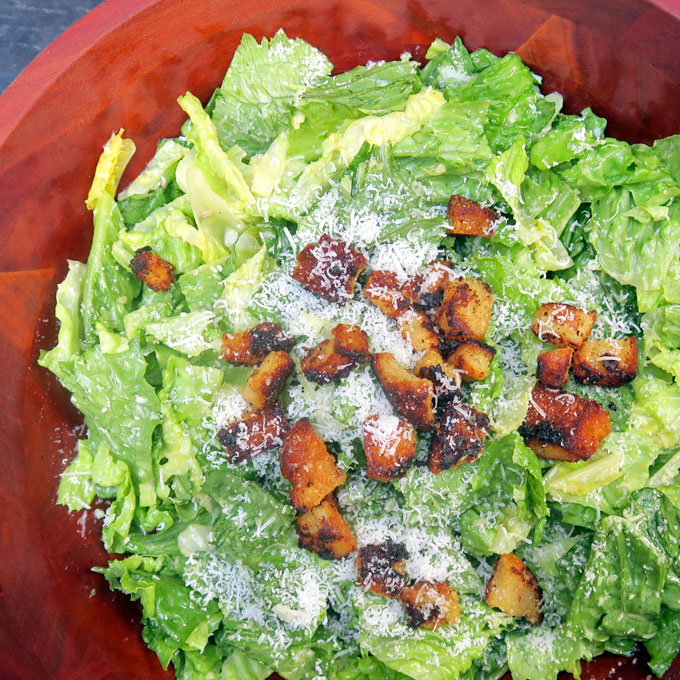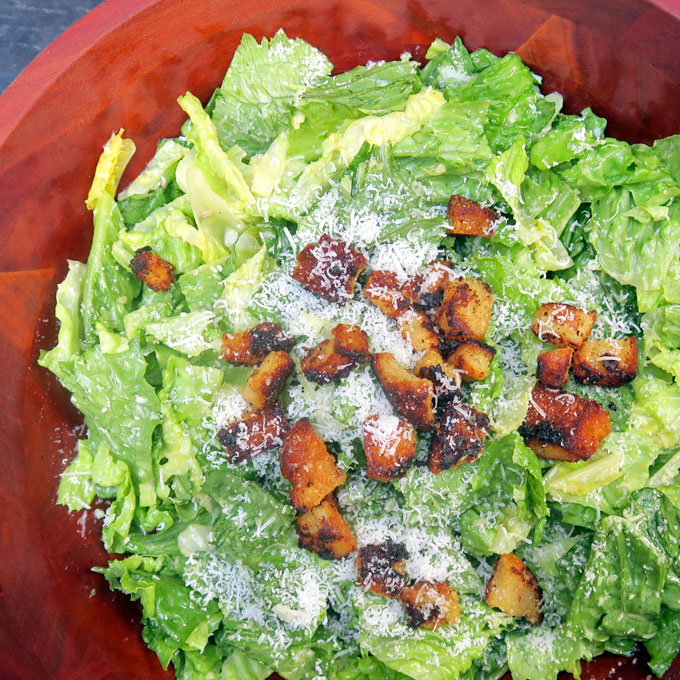 Caesar Salad With Skillet Croutons
July 24, 2017
I don't know if it's the homemade croutons or the wooden bowl, but there's something about this salad that tastes perfectly delightful and old school. The wooden bowl- I only use mine for Caesars. My favorite part of this salad is mashing garlic and anchovies into the side of the bowl. It gives it an earthy feel and brings memories of salads past.
Prep: 20 mins
Cook: 10 mins

20 mins

10 mins

30 mins

Yields: Serves 4-6
Ingredients
Ingredients for Croutons:
4 cups of ¼ inch cubes of favorite bread (crusty sourdough, French or gluten free)
3/4 cup Extra Virgin Olive Oil
¼ cup fresh grated Romano cheese
Ingredients for Salad and Dressing:
6 anchovy fillets packed in oil, drained
2 tablespoons fresh lemon juice
1/2 cup Extra Virgin Olive Oil
3 tablespoons fresh grated Romano cheese
Shaved Romano cheese for serving
Directions
Croutons:
1In a medium size skillet heat oil and garlic over medium heat. Add bread cubes and stir until golden, 5 minutes. Add cheese and continue stirring for another 5 minutes. Remove from pan and season croutons with salt. You may keep them in an airtight container for 1 week.
Dressing:
1Place eggs under running hot water in a small bowl and let them coddle while making salad. You will make the dressing inside the wooden bowl.
2Take garlic and anchovies through a garlic press and place into bowl. Add lemon and a pinch of salt and mash together to make a paste. Scraping the bowl as you mix add mustard and continue making the paste. When it's reached a creamy consistency, slowly add olive oil and keep mixing. Crack open the coddled eggs and use only the yolks. Add them to the dressing, mix and set aside.
Salad:
1Wash, dry and cut Romaine hearts, place in the bowl and toss with your hands. Add Romano, salt and pepper to taste. Finally, add croutons and top off with shaved Romano. Lightly toss again.
Leave us a message
Powered by Facebook Comments