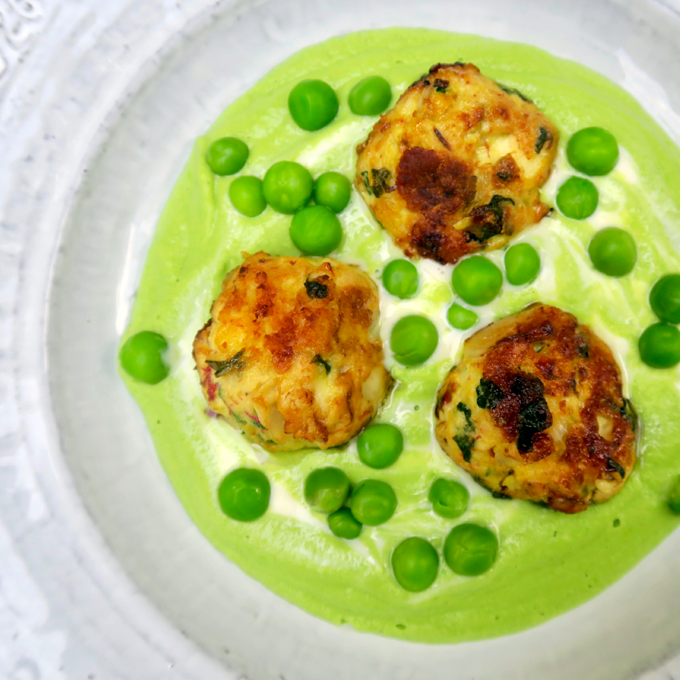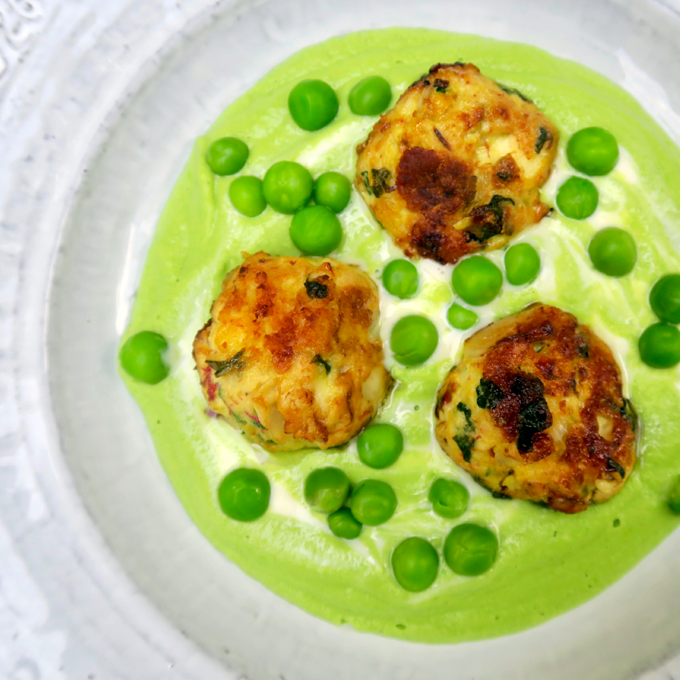 Chicken Mediterranean Meatballs over Peas and Creme Fraiche
Chicken, Eggs, Simple Food Cooking
September 12, 2017
I'm obsessed with meatballs! They're versatile and they allow me to practice portion control. I can eat just a few when I toss them into a salad, or make a heartier meal by having them in sauce with a side of rice or pasta. Meatballs always give me an opportunity to get creative.
Prep: 15 mins
Cook: 10 mins

15 mins

10 mins

25 mins

Yields: Serves 4
Ingredients
Meatballs:
1 lb. highest quality ground organic chicken
1 cup bread cut in small cubes
1 (10-ounce) package frozen chopped spinach, thawed and squeezed dry
½ teaspoon ground black pepper
½ cup oil (I prefer coconut oil)
Optional:
Pea Puree:
1 ½ teaspoons fresh lime juice
3 tablespoons mint leaves, coarsely chopped
Directions
Meatballs Directions:
1In a medium bowl, combine ground chicken, garlic, bread crumbs, Feta, spinach, egg, zest, saffron, salt and pepper. Use your hands to mash everything together evenly.
2Do a taste test by taking a spoonful of the mixture and cooking it on the pan for a couple of minutes on each side. Taste and make any adjustment necessary to the spices.
3Once you're satisfied begin shaping the meatballs. It doesn't matter what size you make them as long as they're evenly sized so they can cook at the same rate.
4Line them up on a plate or baking dish and put them in the fridge until you're ready to use them.
5(Good time to make pea puree.)
6When you're ready for the meatballs, place a skillet over medium high heat and add oil. Sear the meatballs turning them frequently until all sides are golden. Lower the heat and continue turning them until they're fully cooked, the timing depends on their size. Check to see if they're done by slicing one open.
Pea Puree Directions:
1Bring a cup of water to a boil, covered, in a small pot. Add frozen peas and ½ tsp salt. Cook the peas until they're bright green (about 3 minutes). Drain peas and set in a bowl, reserving the cooking liquid.
2In a skillet over medium-high heat cook garlic in oil, stirring occasionally for about 3 minutes. Transfer out of the pan into a bowl and add ½ of the cooked peas.
3Puree the rest of the peas, lime juice, ⅛ tsp. salt, pepper, ½ cup reserved pea cooking liquid in a blender. Add oil and mint and puree until smooth. Divide the pea puree among 4 plates. Add a dollop of creme fraiche and swirl it into the puree.
4Top pea puree with meatballs.
Leave us a message
Powered by Facebook Comments