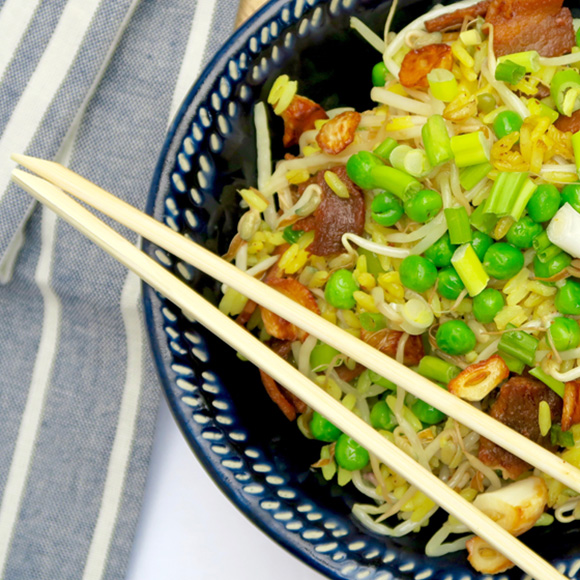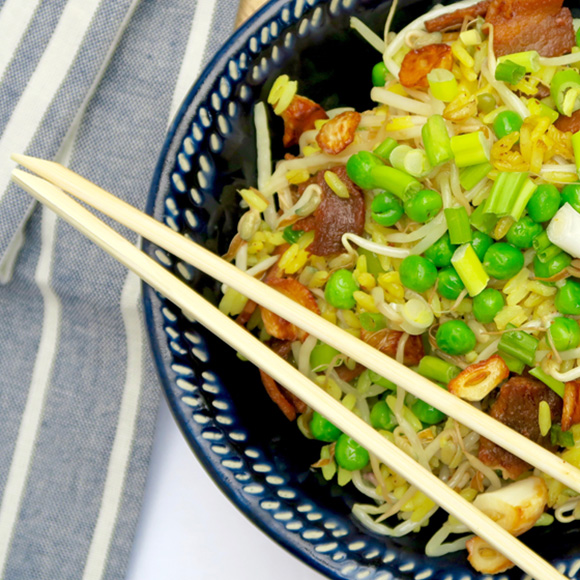 Cuban Fried Rice
January 31, 2017
It's known as Arroz Frito, a Cuban version of Chinese Fried Rice. This dish has roots in Cuba's history. Among the various colors, creeds and ethnic backgrounds on this Caribbean island is an unmistakable Asian influence. Havana has one of the oldest and largest Chinatowns in Latin America. This dish blends together the two cultures deliciously. My favorite part of making it is that I get to use up my leftover rice, and sometimes pork, steak or chicken.
Prep: 20 mins
Cook: 15 mins

20 mins

15 mins

35 mins

Yields: Serves 4-6
Ingredients
2 cups of leftover white, yellow or brown rice
2 pounds of coarsely chopped bacon
2 tablespoons of reserved bacon fat
10 garlic cloves chopped large
1 cup frozen peas, thawed and warm
Directions
1In a large saucepan, cook the chopped bacon in medium low heat and drain on paper towels. Reserve 2 tablespoons of the bacon fat.
2Heat the vegetable oil in a wok and add the garlic. Cook until golden and remove.
3Saute onion for 5 minutes or until translucent.
4Add the bacon fat and the rice and fry for a couple of minutes on all sides.
5Add the eggs, stirring frequently.
6As you continue to stir the rice mixture, add the bean sprouts, peas, followed by a dash of tamari or soy sauce.
7Turn the heat off and fold in the bacon, garlic and scallions until heated through.
8Remove from heat and cover for a couple of minutes before serving hot.
There can be many variations. You can substitute or add to the bacon. If you have leftover pork or steak, dice it and fry it up with a little oil or bacon fat. You can also make it with shrimp, crabmeat or lobster.
Eggs: Instead of adding the uncooked eggs to the rice mixture and frying it altogether, you can scramble them first and fold them into the rice together with the bacon, garlic and scallions. One of my favorite ways is to add a fried egg sunny side up over each portion served.
Leave us a message
Powered by Facebook Comments