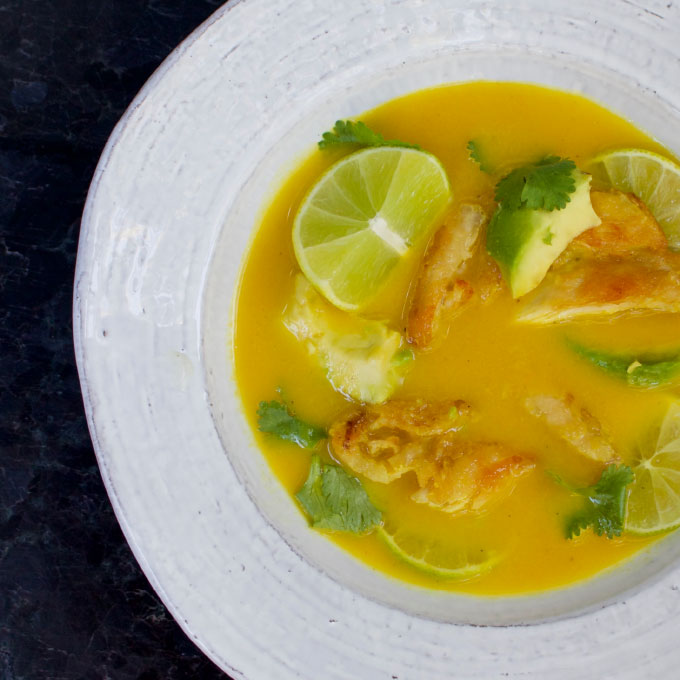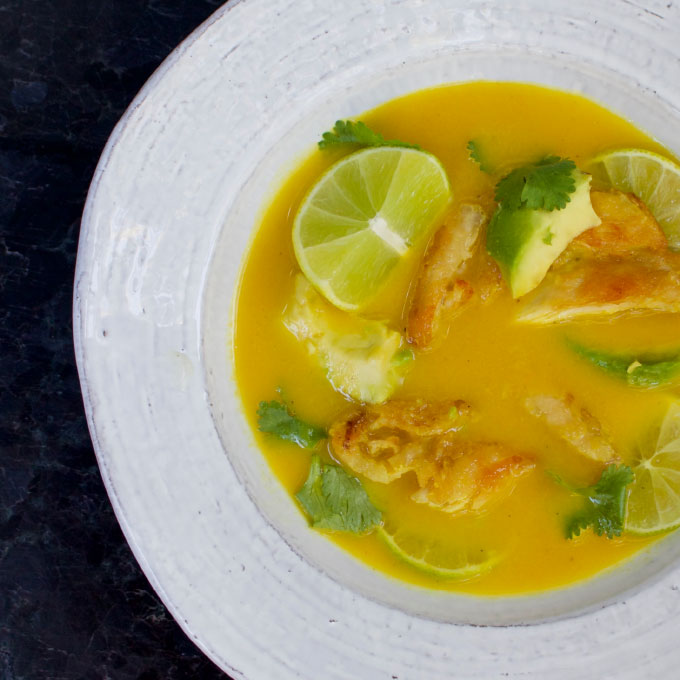 Hearty Homemade Chicken Soup
Chicken, Soups Classic Cooking
October 3, 2017
It's an American classic and it's a Cuban classic. Chicken soup from scratch is the perfect comfort food as well as the ideal remedy to help with symptoms of the common cold. I've always loved the clear broth, often drinking it in a mug like tea for energy during the day. Here's a different way to make it that thickens the broth just a bit and makes it a smooth delicacy that's rich, creamy and infused with lime, garnished with the perfect avocado topping. This is not your mother's chicken soup!
Prep: 30 mins
Cook: 1 hr 15 mins

30 mins

1 hr 15 mins

1 hr 45 mins

Yields: Serves 6 - 8
Ingredients
4 tablespoons coconut oil, divided
One organic sweet yellow onion, quartered
3 celery stalks, coarsely chopped
6 large carrots, coarsely chopped
Directions
1Place the whole fryer in a heavy pot with 2 tablespoons of coconut oil over medium high heat. Brown the chicken on all sides for about 5 minutes.
2Add onions, garlic, celery carrots and continue to saute for 10 minutes.
3Add 3 quarts of water
4Add salt, cumin turmeric and bay leaves.
5Bring to a boil and let simmer for an hour.
6Remove chicken and set aside. When it's cool enough to the touch begin deboning. With your hands shred the chicken meat into pieces that are approximately the same size.
7Discard the bones.
8Remove the bay leaves from the broth. Use an upright blender to mix the broth and vegetables that are left in the pot. Do it in medium sized batches. Pour the smooth, now thick broth back into the pot and simmer on low heat.
9In a large cast iron skillet heat the remaining coconut oil on medium high. Add about 6 oz. of shredded chicken per person. Spread the chicken evenly across the skillet and sprinkle with salt. When the chicken strips become golden crispy on the bottom, turn them over to the other side. Sprinkle with salt again. When they become crispy and golden turn off the heat.
10Squeeze the juice of one lime evenly over the chicken.
11Pour the broth into bowls and evenly divide the chicken into each bowl. Top with cilantro, avocado and lime juice to taste.
Leave us a message
Powered by Facebook Comments