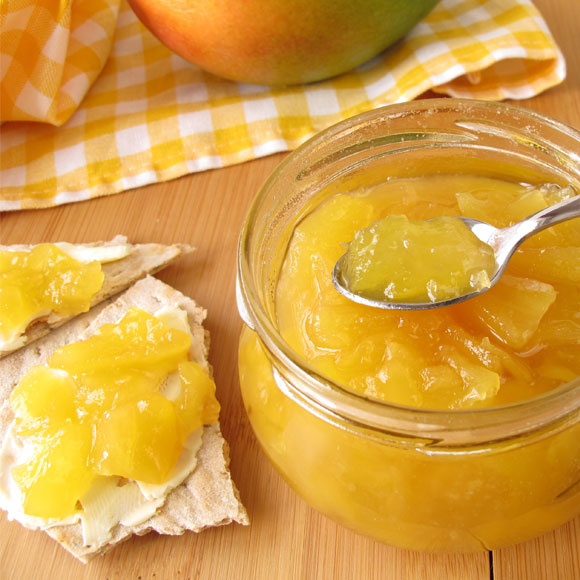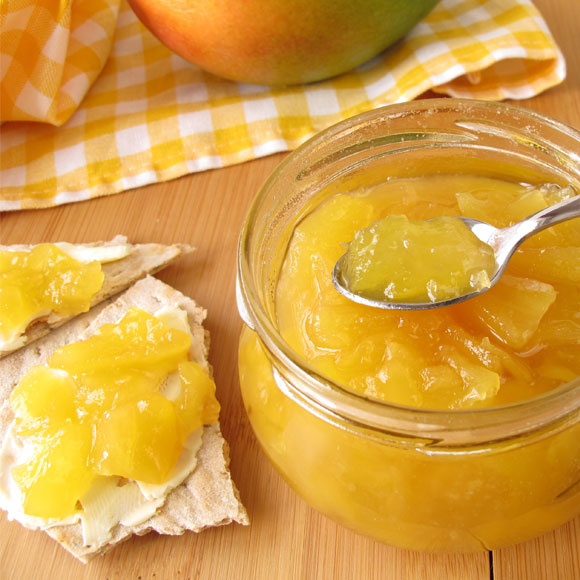 Mango Jam
Jam's & Preserves, Simple Food, Sweet treats Cuban
December 20, 2016
I've been eating mangos my entire life. They've always been around. We had five trees in our backyard and I was either climbing them or eating the fruit that fell from the branches. I especially loved it when tropical storms approached Miami, especially late in the afternoon or evening, because I knew what to expect the next morning.
Prep: 20 mins
Cook: 5 mins

20 mins

5 mins

25 mins

Yields: 8 cups
Directions
1Remove the 2-piece lids from the Mason jars and wash everything. Take the flat lids and place them in a small saucepan with boiling water. After they've boiled for a couple of minutes turn off the heat, but leave the lids in the water.
2Place the chopped mango into a large deep saucepan. Measure the exact amount of sugar into a bowl with a dry measuring cup and add it to the fruit. Over high heat, bring the mixture to a rolling boil while stirring constantly. Let it boil for exactly 1 minute while continuing to stir.
3Add the pectin and vanilla and let the mixture return to a full rolling boil. Once it's bubbling let it boil for exactly 1 minute, stirring constantly. Remove from heat and skim off any foam.
4Working quickly, use the ladle to scoop the mixture immediately into prepared jars, filling to nearly the top. Leave only ¼ inch of space. Remove the hot lids from the saucepan.You may now wipe the rims and, using towels, cover the jars with the lids and screw them on tightly. Push in the dimple of the lids to make sure there's no air in the jars and it's vacuum sealed.
5Turn them upside down and let them cool for 8 hours.
Leave us a message
Powered by Facebook Comments