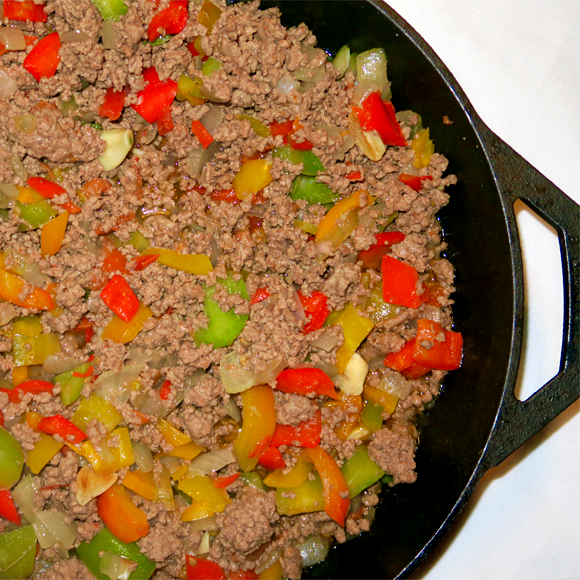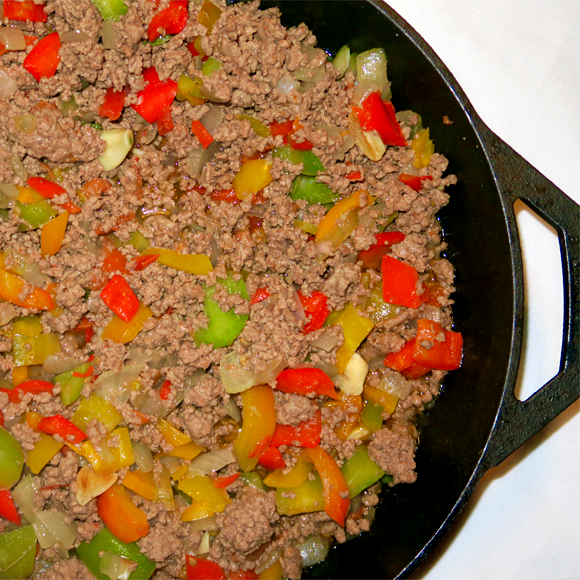 Picadillo Cuban Style & Healthy
June 6, 2017
Picadillo is a traditional Latin American dish made with ground meat and regional ingredients. In my family it was a staple, served with a side of black beans and rice, or over fried plantains as an appetizer, or even over toasted Cuban bread as a Cuban Sloppy Joe or shall we say, Sloppy Jose! I liked it best when my mom served it over rice and topped it with a fried egg. It's also a great filling for tacos.
Prep: 15 mins
Cook: 30 mins

15 mins

30 mins

45 mins

Yields: Serves 8
Ingredients
1 large yellow onion, finely chopped
1 large yellow pepper, cored and seeded, medium chopped
1 large red bell pepper, cored and seeded, medium chopped
One full bulb of garlic peeled and finely chopped
2 pounds grass fed ground beef
1 can of diced canned tomatoes
Directions
1In a sturdy large pan, heat oil over medium high heat, Sauté the onion, peppers, and garlic stirring frequently for about 5 minutes.
2Add ground beef to the skillet and cook until browned. When the meat is browned carefully tilt the pan and remove the excess fat with a large spoon.
3Add the wine or sherry and stir for a couple of minutes. Add the tomato paste, diced tomatoes, cumin, oregano, sugar and bay leaf.
4If you're using raisins, olives, capers and/or cherry tomatoes add them now.
5Lower the heat and simmer for 15-20 minutes. Season with salt and pepper.
6If you're using parsley add over the top.
7Remove and discard bay leaves.
8Serve warm over white rice with a side of black beans and fried plantains OR use as a filling for empanadas or tacos.
Leave us a message
Powered by Facebook Comments