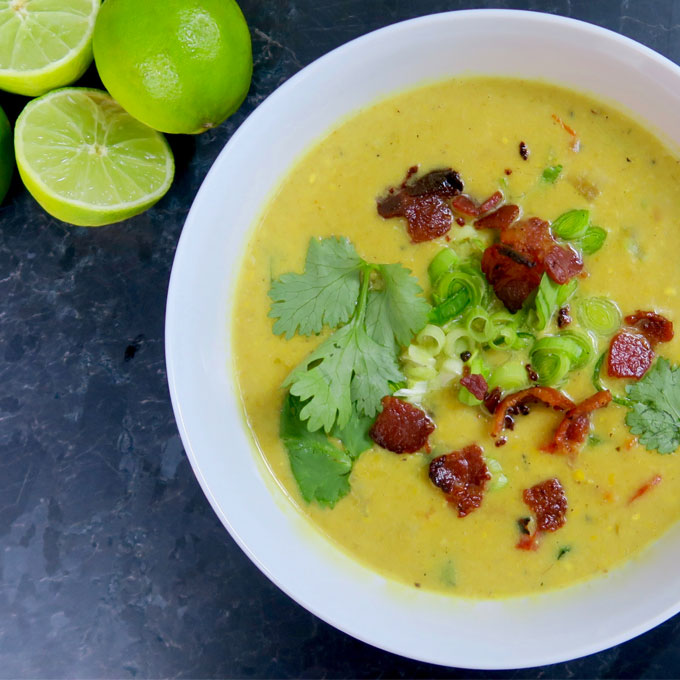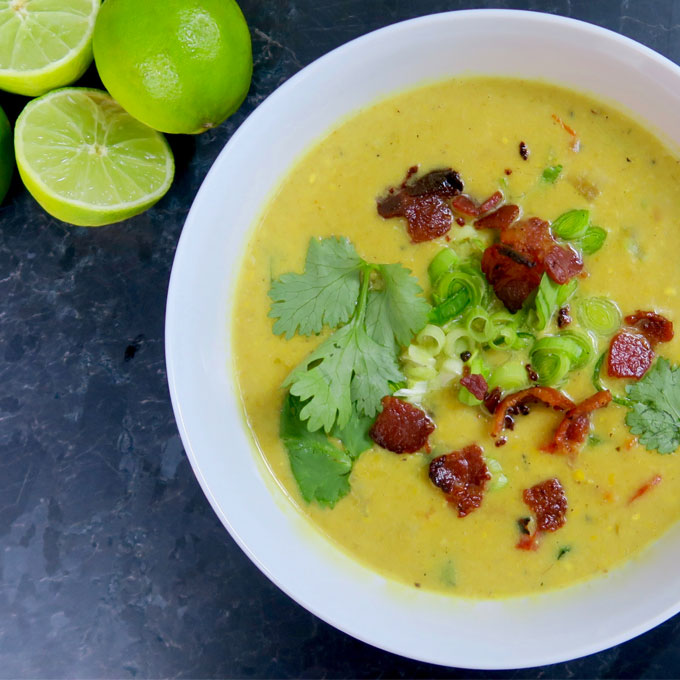 Smoky Poblano Corn Chowder
September 18, 2017
Fresh corn and poblanos from the farmer's market inspired me to make this chowder, which satisfies every taste bud, especially when you add lime at the end. The poblano peppers are considered a mild green chile, although occasionally you may get a hot one in the bunch. Any Mexican mild green chile will work in this soup. I like adding color with sweet red bell peppers too.
Prep: 30 mins
Cook: 40 mins

30 mins

40 mins

1 hr 10 mins

Yields: Serves 8-10
Ingredients
1 lb smoky lean center cut bacon, chopped
1 ½ cups of roasted, peeled and chopped poblano chiles (usually 5 to 6 large)
3 sweet roasted red bell peppers, peeled and chopped
2 medium onions, diced (about 2 1/2 cups)
3 ribs celery, diced (about 1 cup)
3 medium yukon gold potatoes, peeled, chopped into ½ inch chunks
2 limes, one sliced for garnish, one for juice
Cilantro, scallions/small leeks for garnish
Optional:
If you can't find fresh poblanos you can substitute with canned green chiles.
Skip the bacon and use vegetable stock for vegetarian option
Directions
Preparation:
1Cook bacon on a skillet and set aside. Reserve the oil.
2Roast the chiles and bell peppers. There are different ways to do this. I put them directly on the flame of a gas stove. You can also roast them on a grill or under a broiler. They should be blackened all over. Place them in a bowl, cover and let them steam for 5-10 minutes, until they're cool enough to touch. Use a paper towel to strip off the charred bits. Cut them open, remove and discard the stem, seed pod and inside veins. Coarsely chop the chiles and set aside.
3Pour bacon fat into a heavy pot and turn on medium high heat. Add the onions and the celery, cook for 10 minutes until the onions and celery are softened and are beginning to brown.
4While the onions are cooking cut the fresh kernels of corn away from the cobs.
5Once the onions and celery are beginning to brown, add the garlic and cook for one more minute. Add potatoes and the stock to the pot. Add bay leaves, cumin, oregano, and salt. Increase heat then bring to a simmer and cook another 10 minutes until the potatoes are cooked through.
6Add the corn kernels to the pot and cook for 5 more minutes and turn off the heat.
7Take 3-4 cups of the soup and puree in a blender to thicken the base. If you want it thicker you can use more.
8Place the mixture back into the pot and add the chopped roasted poblanos and bell peppers.
9Remove the bay leaves. Stir in the cream. Add black pepper to taste.
10To serve, top with scallions/leeks, cilantro and bacon. Sprinkle fresh lime juice and serve with a slice or two of lime.
Optional:
1I like to reserve a tablespoon of the fresh minced raw garlic and add it to the soup as a final step. Do this only if you are a garlic lover!
Leave us a message
Powered by Facebook Comments